Welding Services and Capabilities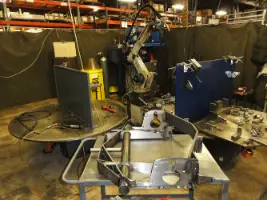 In addition to our stamping and sheet metal fabrication operations, Tempco Manufacturing offers industry-leading welding services. Tempco's welding capabilities include Metal Inert Gas Welding (MIG), Tungsten Inert Gas Welding (TIG), & Spot Welding processes. Our team of experienced welders is certified in AWS D1.1 & D1.6 and operates high-performance welding equipment. Tempco is your trusted supplier of welding and metal fabrication services.
Welding Services Offered from Tempco
Tempco's welding services adhere to the highest standards in the industry. We operate the finest welding tools and resources for various welding processes and techniques, including:
Metal Inert Gas Welding (MIG welding): A welding process that forms an electric arc between a wire electrode and the workpiece metal, causing them to fuse
Tungsten Inert Gas Welding (TIG welding): A high-precision welding process for applications requiring exceptionally clean aesthetics
Spot Welding: Often used for joining sheet metal together, spot welding is accomplished using electrical current to heat the metals, forging them together
Welding Services & Metal Fabrication Materials
At Tempco, our experienced staff works closely with our clients to provide expertly refined welding operations that fit their needs. Our welding capabilities utilize many different materials to ensure the best performance for each application, including:
Hastelloy
Stainless Steel 300 & 400 Series
Nickel & Nickel-Based Alloys
And more!
Welding Equipment for Metal Fabrications & Stamped Metal
Tempco utilizes some of the best welding equipment in the industry to produce high-quality workpieces. Our team of engineers has extensive experience operating both manual welding equipment and spot welding equipment, creating premium metal fabrications for various applications.
Manual Welding Equipment
1 Miller Mig Welder Capacity 250
1 Miller Syncrowave 250 Tig Welder
2 Miller Syncrowave 250DX Tig Welder
1 Miller Syncrowave 350LX Tig Welder
1 Hobart Arc Welder
1 Oxy/Accetalene Torches
4 Millermatic 350P
1 Thermal Dynamics Cutmaster 51 Plasma Cutter
Spot Welding Equipment
1 Sciaky 100KVA - 10" x 36"
1 Acme 75KVA
1 Birdsell
1 Acro 35KVA, Model ARF - 2 - 24
1 Studgun CD - 80
1 Nelson Studgun Model 150
Tempco is Your Supplier for Welding, Metal Stamping, & Sheet Metal Fabrication
Are you looking for a welding and metal fabrication supplier? Tempco Manufacturing specializes in metalworking processes to provide you with the high-quality fabrication services you need. Located in St. Paul, Minnesota, Tempco has decades of experience providing customers with premium welding services in production runs of all sizes. Whether you need a prototype or a low-volume run, or you're ready to begin high-volume orders, Tempco has the resources and expertise to make your vision come to life.
At Tempco, we produce metal fabrications for customers in nearly every industry, including aerospace, medical manufacturing, automotive production, OEM production, and many more. Whatever your industrial application looks like, we can provide you with welding services, sheet metal fabrication, fiber optic laser cutting, custom metal stamping, or other metalwork services you need.
Contact Tempco to Learn How Our Metalworking Capabilities Can Serve You
Contact us to learn how Tempco's welding services can serve you. You can also request a quote today for detailed pricing information.