AS9100D 2016 Certified for Metal Stamping & Fabricated Parts
Tempco's Quality Management System has been certified to AS9100D 2016 standards for the manufacturing of metal stampings and fabricated parts for aviation, aerospace, and defense industries.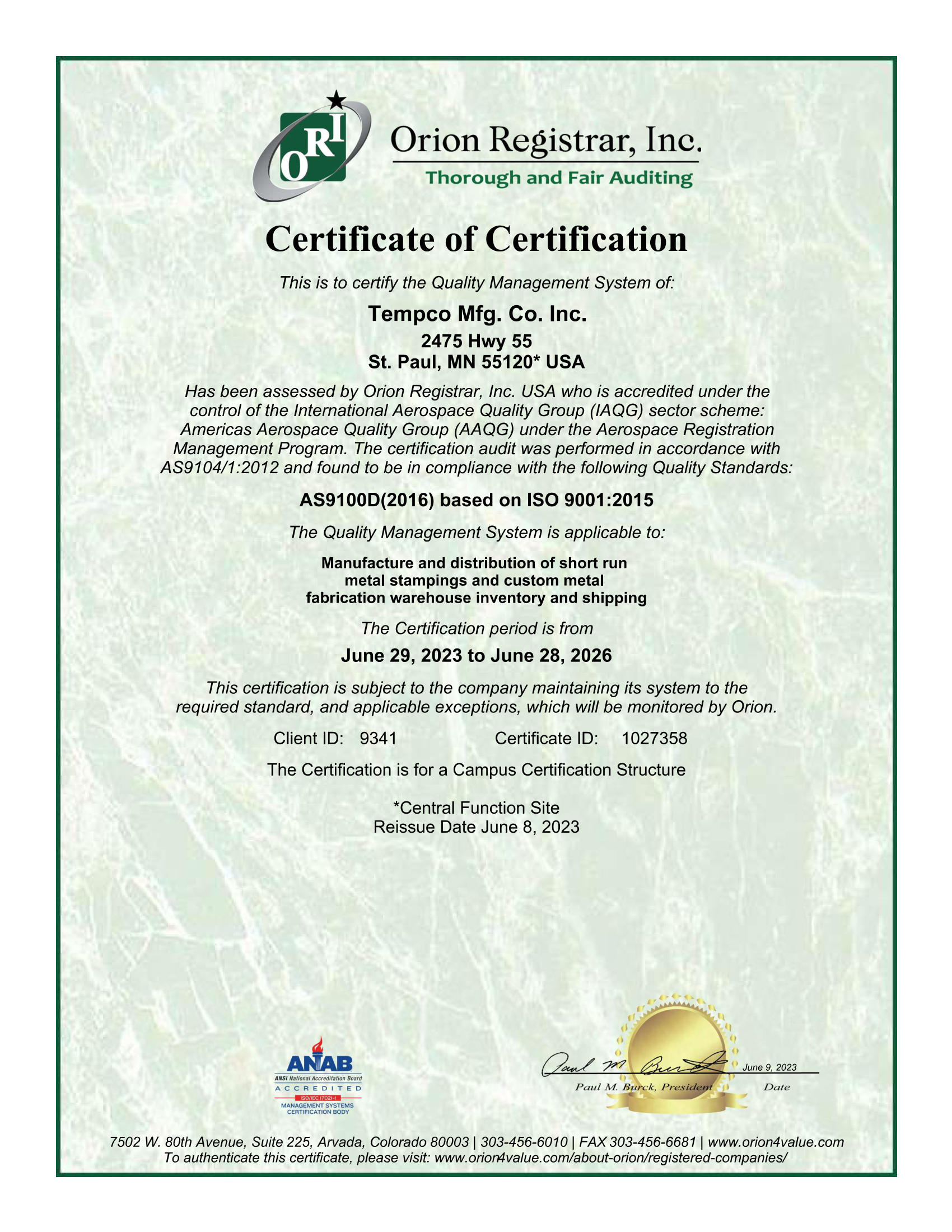 Our AS9100D 2016 certification was overseen by Orion Registrar Inc., a leading, ANAB-accredited management systems certification body.
What Does AS9100D 2016 Certification Mean for Your Project?
Tempco's Quality Management System is now certified to AS9100D 2016 standards. The key focus of the AS9100D 2016 is elevating the requirements for risk management and to make risk management an integrated theme across the AS9100D 2016 standard. Most changes in this revision were driven by repeated delivery of non-conformal products and consistent or repeated late deliveries by previous revisions.
Major changes between previous revisions and AS9100D 2016 include:
A greater emphasis is placed on risk management
A list of "Special Requirements" was introduced
A list of "Critical Items" was introduced
A new measure was added to address requirements conformance
A new measure was added to address delivery performance
A requirement for the adoption of proven product development processes
The elimination of "recurring corrective actions"
Tempco: Quality Parts with On-Time Deliveries
Long story short, Tempco's quality management system being certified to AS9100D 2016 standards means you can count on Tempco for high-quality parts with on-time deliveries. We will deliver precision metal stampings and fabricated metal parts that match your exact design requirements and are delivered on time, every time. We do everything in our power to exceed customer expectations.
Request a quote on the metal stampings or fabricated parts you need, or contact Tempco Manufacturing to discuss your unique project specifications.