Full-Service Custom Metal Stamping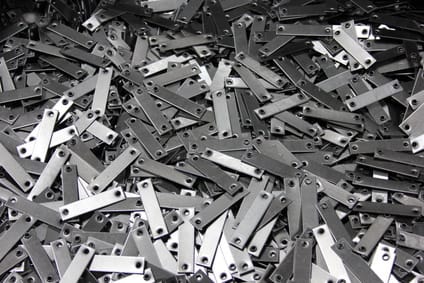 Custom metal stamping includes blanking, punching, bending, drawing, embossing, and more. Each process is performed using CAD/CAM designed tools that provide the precision required for complex parts. Metal stamping is a fast and efficient method of producing durable, high-quality components for industries including hardware, aerospace, medical, electronics, industrial, lighting, and more.
Custom Stamped Metal Parts & Components from Tempco
Tempco's sheet metal stamping services deliver a fast and efficient method for producing durable, high-quality parts for the world's most specialized industries. Our metal stamping presses are built to handle capacities up to 440 tons and precision stamping dies and tooling that we make in-house, creating parts as thin as 0.005" while maintaining tolerances that often exceed industry standards.
Custom-Made Precision Metal Stamping Dies 
Stamping dies are custom-made tools used with a stamping press to cut or form sheet metal into the desired shape. Stamping dies are typically manufactured from tool steel, which is hard enough to cut most other types of metal while maintaining the tolerances the stamped part requires. All of Tempco's stamping dies are made by our in-house tool and die shop. 
Aluminum, Stainless Steel, & More Custom Metal Stamping Material Options
We work with a wide range of premium materials for your projects, including Cold Rolled and Hot Rolled carbon steel. If you don't see your preferred material option listed below, contact us to discuss your project's specific requirements.
Sheet Metal Prototyping Services
Our rapid sheet metal stamping capabilities are ideal for metal prototype fabrication. We will work with you to develop prototypes and samples that enable you to test your part designs for proper fit, form, and function. Sheet metal prototyping helps ensure precision and on-time deliveries while reducing project costs.
Additional Secondary Services for Custom Metalwork at Tempco
In addition to custom stamping parts, we offer a range of other sheet metal forming services to provide our customers with precision parts, components, and assemblies that match their application requirements.
Custom Metal Stamping Services Located in the Twin Cities, MN
At Tempco, we serve customers across all industries, delivering short-to-medium-run custom metal stampings and sheet metal prototyping for custom parts of all sizes and shapes. Located in St. Paul, Minnesota, we have small and large punch presses for unique specifications and complex custom stamping projects.
Our workforce is dedicated and committed to quality through Quality Circle involvement. Tempco's quality management system is now certified to AS9100D standards, ISO 9001:2015 certified, ISO 13485:2016 Certification, and holds a Federal Firearms License.
Contact us for Custom Stamped Metal, Prototyping Services, & More
Tempco Manufacturing is your source for reliable precision metal stampings with a Midwestern work ethic. Request a quote on your custom-stamped metal parts, or contact us to find out what we can do for you.