Quality Control for Sheet Metal Stamping & Fabrication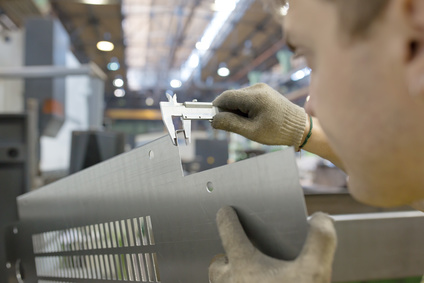 Quality control for advanced metal fabrication and metal stamping processes is performed in accordance with several certifications to provide the most accurate and reliable metal parts in the industry. With a wide range of metal manufacturing processes, Tempco's high quality certifications, licensures, and registrations guarantee that your parts are manufactured to the highest standards.
Tempco has been a thriving sheet metal company for over 75 years, with turnkey sheet metal fabrication and metal stamping capabilities to meet our customers' needs. Our continued success is directly tied to our complete attention to quality manufacturing.
Tempco's Quality Management System is certified to 
AS9100D:2016 standards
,
ISO 9001:2015 certified
,
ISO:13485:2016
,and maintain a 
Federal Firearms License (18 U.S.C. Chapter 14)
 to better serve clients in the firearms industry.
Contact us for more information regarding our metal fabrication and metal stamping quality certification processes, or call us at 651-452-1441 and we will gladly answer your specific questions. Tempco is your trusted source for high quality metal manufacturing services.
Quality Certifications, Registrations & Licensures
Advanced quality certifications, registrations, and licensures such as AS9100D, ISO 9001:2015, and a Federal Firearms License allows us to provide you the knowledge and peace of mind that we are providing you with the highest quality service in the sheet metal industry.
AS9100D 2016 Certification
Tempco's Quality Management System is certified to AS9100D 2016 standards. AS9100D 2016 benefits include:
A greater emphasis is placed on risk management
A list of "Special Requirements" was introduced
A list of "Critical Items" was introduced
A new measure was added to address requirements conformance
A new measure was added to address delivery performance
A requirement for the adoption of proven product development processes
The elimination of "recurring corrective actions"
ISO 9001:2015 Certification
ISO 9001:2015 requires organizations to define and follow a quality management system that is both appropriate and effective while also requiring them to identify areas for improvement. ISO develops the standards to certify businesses or organizations. Certification is handled by a third-party and is tested annually.
ISO 13485:2016 Certification
ISO 13485:2016 standard certification ultimately allows medical device manufacturers to display their quality management practices in a practical way, while also protecting the consumer from medical devices that do not qualify for ISO 13485:2016 standardization.
Federal Firearms License
Tempco's Federal Firearms License allows us to engage in business pertaining to the manufacturing or importation of firearms and ammunition, or the interstate and intrastate sale of firearms.
Advanced Metal Stamping & Fabrication Processes
Metal stamping is the process of transforming flat sheet metal into a net shape or near-net shape part. 
In a single-stage metal stamping process, each stroke of the press produces a part; in a multi-stage metal stamping process, the material moves through a series of stamping stations, each of which performs a different forming process and takes the material one step closer to its final form. Progressive stamping uses one tool that performs multiple operations on one hit to make a complete part.
The metal stamping process may involve one or more of the following actions:
Bending
Hemming
Blanking
Ironing
Curling
Piercing
Cutting
Stretching
Drawing
Reducing/necking
Embossing
Quality Manufacturing Capabilities for Metal Fabrication & Metal Stamping
At Tempco, everything we do, from our metal stamping processes to our secondary services, is subjected to our stringent quality manufacturing standards. We utilize the following quality assurance programs to meet the strictest of standards:
First article inspection reports
First piece inspection data
Receiving inspection data
In-process inspection data
Final inspection data
Calibration database
Corrective action
Preventive action
Deviation requests PPAPs & SPC
Quality Compliance for Sheet Metal Fabrication & Metal Stamping
At Tempco Manufacturing, Inc., we are equipped to tackle the toughest metal stamping and fabrication challenges. We guarantee compliance to our quality manufacturing policy and your quality standards by fulfilling the following objectives:
Improve On Time Shipping rate to 93% or better
Maintain Customer Returns to below 0.55%
Tempco's ongoing commitment to quality control with metal stamping and metal fabrication is built on continual improvements to our quality management system and our dedication to conforming to customer standards and applicable industry requirements. Our metal stamping and sheet metal quality inspection processes ensure that every piece we produce meets or exceeds customer expectations.
Tempco is Your Premier Resource for Quality Manufacturing
Located in St Paul, Minnesota, Tempco serves clients across the country and around the world. National and international customers in all industries know they can rely on us for quality metal stamping and sheet metal fabrication. We look forward to working with you to improve your quality manufacturing process!
Request a quote on your sheet metal fabrication or metal stamping project, or contact Tempco for solutions to your toughest manufacturing challenges.