Precision Tooling Equipment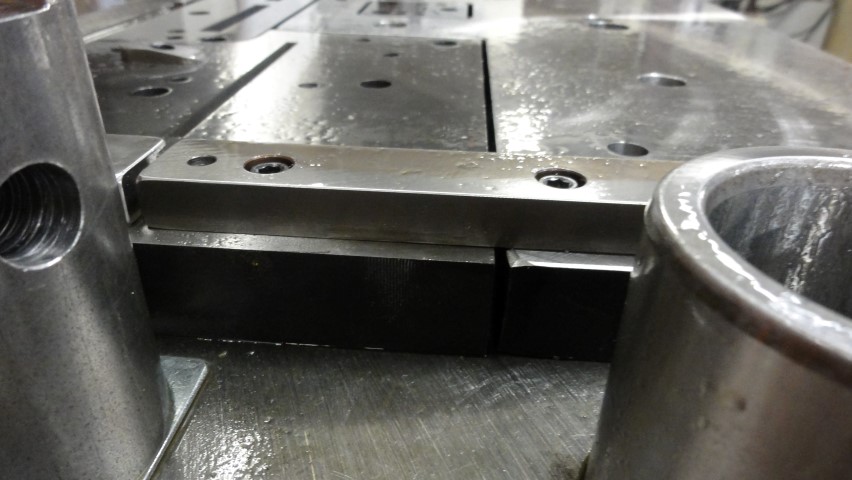 Machine tooling creates the components needed to fulfill production manufacturing. Using tool and die equipment provides the necessary precision when completing these operations to ensure products meet application specifications. Metal and die stamping are versatile processes that design and engineer various tools for manufacturing parts or components for numerous industries.
Metal & Die Stamping Benefits & Features
For tool and die manufacturing, metal stamping and die stamping provide valuable advantages over other production methods. Opting for either of these techniques offers cost-effective solutions and a higher level of automation, allowing for longer production runtimes and creating a more efficient production process.
Precision Tooling Capabilities & Equipment
Tempco is proud to offer precision tooling with state-of-the-art, high-technology equipment. Our capabilities include CNC EDM machining, CNC vertical machining, vertical milling, lathes, band saws, band filers, surface grinders, and drill presses. We also provide additional services to complement our metal stamping processes.
What is Metal Stamping?
Using various metal forming techniques, metal stamping converts flat metal sheets into several shapes that can be configured for precision tooling. Many tools can be engineered from this process, including the following:
Cutting Tools
Forming Dies
Jigs and Fixtures
Station Tooling
Progressive Tooling
Drawing Tools
Welding and Inspection Fixtures
Sheet Metal Dies
What is Die Stamping?
Like metal stamping, custom die stamping is an operation that forms sheet metal into various shapes and profiles. Utilizing a cold-forming process, die stamping takes a metal strip, cutting and shaping it using dies to create the desired profile.
Operations
The most common operation used in both metal and die stamping is cutting, but several metal forming techniques may be used; blanking, notching, trimming, piercing, lancing, and shearing are also used to fabricate the appropriate profile to the required specifications.
Precision Tooling vs. Super Precision Tooling
Super precision tooling equipment provides the highest level of efficiency and parts uniformity, incorporating design and hardware/software integration for a high-quality production tool machine. Providing tighter tolerances than precision tooling, super precision tooling produces tolerance standards and desired geometric form.
The fixture equipment of super precision tooling machines requires stiffness and stability to withstand the high-pressure force of the production process. Customization is also possible with super precision tooling. Super precision tooling is preferred to precision tooling, and it performs similarly while providing the advantages of extra tight tolerances.
Learn More About Our Precision Tooling & Fixtures
Quality tooling and die products should be designed and engineered to their optimal capabilities to allow for the fabrication of reliable precision parts. At Tempco, we produce tooling and fixtures in-house in our state-of-the-art tool and die shop.
Need assistance with your production tooling and fixture equipment? Contact Tempco today or request a quote to learn more about our precision tooling and fixtures and what we can do to solve your manufacturing challenges. 
Tempco's Precision Tooling & Fixture Equipment
CNC EDM Machining:
2 FANUC ROBOCUT a - 1iE
Wire EDM - 16" x 24"
1 CHMER CM H86C Hole Popper - 18" x 36"
CNC Vertical Machining Center:
1 OKK MCV 550 with Meldas 500
1 OKK MCV 650 with Meldas 300
1 Fadal VMC 15
1 Bridgeport Conquest Mill V1000
1 Hurco VMX84TI - Bed Size 84" x 32"
Vertical Mills:
4 Bridgeport Series 1
1 TRAK K3 with ProTrak/KMS
Lathes:
1 Clausing 600 - 12"
Band Saws:
1 Spartan Horizontal PA 1313
1 Grob NS 18
1 Jet 18"
Band Filers:
1 Do All BF - 120
Surface Grinders:
1 Chevalier FSG - 1640 ADII - 16" x 40"
1 Chevalier FSG - 2A618
1 Chevalier FSG - 1224ADIII
1 Do All
1 Blanchard 18CD 36" Capacity
Drill Presses:
2 Clausing 20"