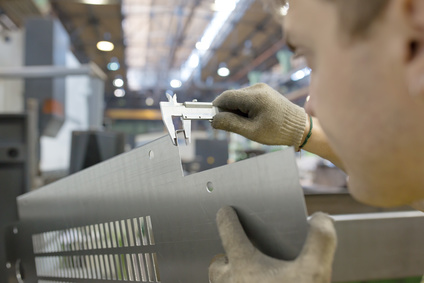 Tempco has been a thriving sheet metal fabrication and metal stamping company for over 70 years. Our success is due to our complete attention to quality manufacturing. Tempco is AS9100C registered and ISO 9001:2008 certified  We've also obtained our Federal Firearms License (18 U.S.C. Chapter 14) to better serve clients in the firearms industry.
Tempco's ongoing commitment to quality metal stamping and quality sheet metal fabrication is built on continual improvements to the effectiveness of our quality management system and our dedication to conforming to customer standards and applicable industry requirements.
Contact Tempco to get started on your metal stamping or fabrication project and put our quality manufacturing processes to work for you.
Quality Objectives with Tempco
At Tempco Manufacturing, Inc., we handle the toughest of metal stamping and fabrication challenges. We guarantee compliance to our quality manufacturing policy by fulfilling the following objectives:
To improve the average set-up time from 80% to 85% or better
To maintain rejects below 0.65%
To improve the average On Time shipping rate to 95% or better
Quality Manufacturing Capabilities
Every project, from precision metal stampings to our secondary services, is subjected to our stringent quality manufacturing standards. Tempco offers the following quality assurance programs to meet the strictest of quality standards:
First article inspection reports
First piece inspection data
Receiving inspection data
In-process inspection data
Final inspection data
Calibration database
Corrective action
Preventive action
Deviation requests PPAPs & SPC
Federal Firearms License (18 U.S.C. Chapter 14)
Located in Saint Paul, Minnesota, we serve clients across the country and around the world. National and international customers in all industries know they can rely Tempco for quality metal stamping and quality sheet metal fabrication. We look forward to working with you to improve your metal manufacturing process!
Contact Tempco today to learn more about our Quality Manufacturing Process
Contact Tempco or request a quote to get started on solving your toughest manufacturing challenges.