Quality Control for Sheet Metal Stamping & Fabrication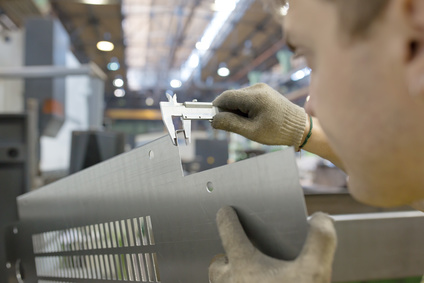 What is the Metal Stamping Process?
Metal stamping is the process of transforming flat sheet metal into a net shape or near-net shape part. Sheet metal, in either blank or coil form, is placed into a stamping press, with specially-designed tooling and/or dies that blank, bend, punch, draw, flange, emboss, or otherwise alter the material into the desired shape.
In a single-stage metal stamping process, each stroke of the press produces a part; in a multi-stage metal stamping process, the material moves through a series of stamping stations, each of which performs a different forming process and takes the material one step closer to its final form. Progressive stamping uses one tool that performs multiple operations on one hit to make a complete part.
The metal stamping process may involve one or more of the following actions:
Request a quote on your project, or contact us to put our quality metal stamping and sheet metal fabrication processes to work for you.
Quality Manufacturing Capabilities for Metal Fabrication & Metal Stamping
Everything we do, from our metal stamping processes to our secondary services, is subjected to our stringent quality manufacturing standards. Tempco utilizes the following quality assurance programs to meet the strictest of quality standards:
First article inspection reports
First piece inspection data
Receiving inspection data
In-process inspection data
Final inspection data
Calibration database
Corrective action
Preventive action
Deviation requests PPAPs & SPC
Registrations, Certifications & Licensures
Quality Compliance for Sheet Metal Fabrication & Metal Stamping
At Tempco Manufacturing, Inc., we are equipped to tackle the toughest metal stamping and fabrication challenges. We guarantee compliance to our quality manufacturing policy and your quality standards by fulfilling the following objectives:
Improve On Time Shipping rate to 93.5% or better
Maintain Customer Returns to below 0.55%
Quality Metal Fabrication & Quality Metal Stamping
Tempco has been a thriving sheet metal company for over 70 years, with turnkey sheet metal fabrication and metal stamping capabilities to meet our customers' needs. Our continued success is directly tied to our complete attention to quality manufacturing. Tempco's Quality Management System is certified to AS9100D 2016 standards and ISO 13485:2016 standards, and maintain a Federal Firearms License (18 U.S.C. Chapter 14) to better serve clients in the firearms industry.
Tempco's ongoing commitment to quality metal stamping and quality metal fabrication is built on continual improvements to our quality management system and our dedication to conforming to customer standards and applicable industry requirements. Our metal stamping and sheet metal quality inspection processes ensure that every piece we produce meets or exceeds customer expectations.
Your #1 Resource for Quality Metal Stamping & Metal Fabrication
Located in Saint Paul, Minnesota, Tempco serves clients across the country and around the world. National and international customers in all industries know they can rely on us for quality metal stamping and quality sheet metal fabrication. We look forward to working with you to improve your metal manufacturing process!
Request a quote on your sheet metal fabrication or metal stamping project, or contact Tempco for solutions to your toughest manufacturing challenges.