Precision Metal Stamping Industries Served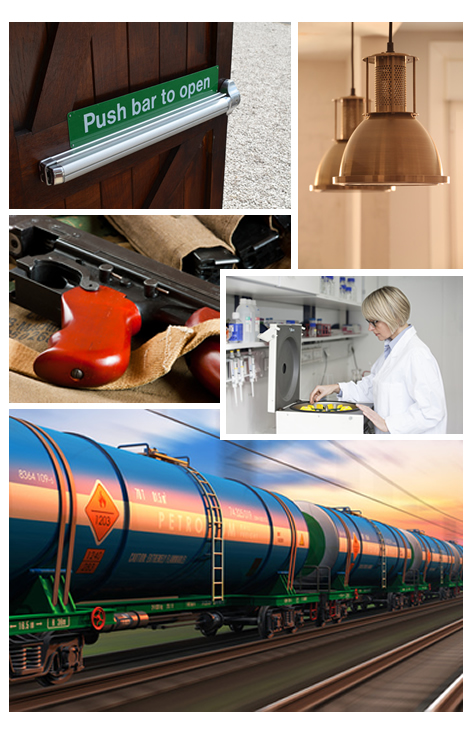 With over 70 years of experience, Tempco Manufacturing produces precision metal stampings, precision sheet metal fabrications, and assemblies for clients across numerous industries. Our proven metal forming capabilities and certifications can propel your project to the next level. With technologically advanced in-house stamping and fabrication processes, our expert employees understand the subtle nuances of every industry we serve.
Aerospace Sheet Metal Fabrication
The aerospace industry utilizes state-of-the-art equipment with tolerances that must be exceptionally close. At Tempco, we provide primary aerospace sheet metal fabrication and aerospace stamping services for numerous aerospace parts and components. Whether you need small, intricate parts for door closures, large (relatively) simple enclosures, or anything in between, Tempco is your reliable source.
Precision Metal Stamping for Medical Devices
Manufacturing of medical device parts must be accomplished with extreme precision and tight tolerances. Tempco produces stamped metal parts and sheet metal fabrications that match your medical component's exact specifications. Our medical device components are machined to tolerances within ± 0.001" for internal features and ± 0.003" for external features.
Custom Metal Manufacturing for Hardware Stamping & Fabrication
Whether your products need small, simple parts, large, intricate ones, or something in between, Tempco can create drawn, stamped, or fabricated metal parts that perfectly match your designs. No matter what sort of hardware you manufacture, if your end product requires high quality, high precision metal stamped parts or sheet metal fabrications, Tempco is your #1 solution.
High-Quality Metal Lighting Stamping & Fabrication
Lighting fixtures provide a unique look, feel, and ambiance to any type of room. At Tempco, we produce housings, brackets, and other components that meet your exact specifications. The quality of our lighting fixtures and metal parts consistently exceeds industry standards, and our turnkey stamping and fabrication services consistently exceed customer expectations.
Precision Metal Manufacturing for Firearms
Firearms manufacturing requires superior precision and extremely tight tolerances. Tempco can produce the high quality, high precision metal parts you need for firearm manufacturing. We make components for magazines, accessories, housings, etc.
Automotive Custom Stampings and Fabrication
Aftermarket auto parts often require custom fabrication and stampings. Tempco provides precision metal stampings and precision fabricated parts for automotive and aftermarket automotive OEMs. From simple brackets and accessories to complex specialty parts, we deliver stamped and fabricated metal parts that meet or exceed industry standards.
Custom Fabrications for Electronic Components
Today's sophisticated electronic components require custom manufacturing that details a part or component's exact specifications. From standoffs to louver panels to full enclosures, we can provide stamped and/or fabricated metal parts in a range of sizes. No design is too simple or complex: our stamped metal parts and sheet metal fabrications consistently meet or exceed electronic industry standards and customer expectations.
Metal Stamping for Construction & Industrial Equipment
Industrial equipment relies on extreme precision to manufacture parts and components that can withstand a wide range of extreme environments. Tempco supplies precision metal stampings and fabricated parts for the heavy equipment industry's biggest markets, including fluid handling, filtration, and power generation.
Precision Metal Manufacturing for the Food & Beverage Industry
State-of-the-art food and beverage equipment require parts and components that are custom manufactured to precise tolerances and specifications. Tempco manufactures custom metal stampings and sheet metal fabrications that match our customers' exact designs. From shelving and brackets to stainless steel components to vending machine parts, we can deliver simple or complex parts that meet your unique requirements.
Contact Tempco for Custom Metal Stamping Today
At Tempco, we have the skill set and the know-how to produce a custom metal stamping or custom sheet metal fabrication and assembly to match your unique requirements. Request a quote on engineered precision stampings and precision sheet metal fabrications for your applications, or contact us to learn more.